Some potentially relevant sessions at RightsCon, which appears to be free.
Wednesday, July 29 at 9:15 AM Pacific (4:15 PM UTC) for the
July DWeb Meetup: 2020 Community Views Around the Globe
ISOC y CITEL tienen el gusto de anunciarles la convocatoria para participar en el curso/beca "Construyendo redes comunitarias inalámbricas ", que se realizará en línea del 14 de septiembre al 25 de octubre de 2020.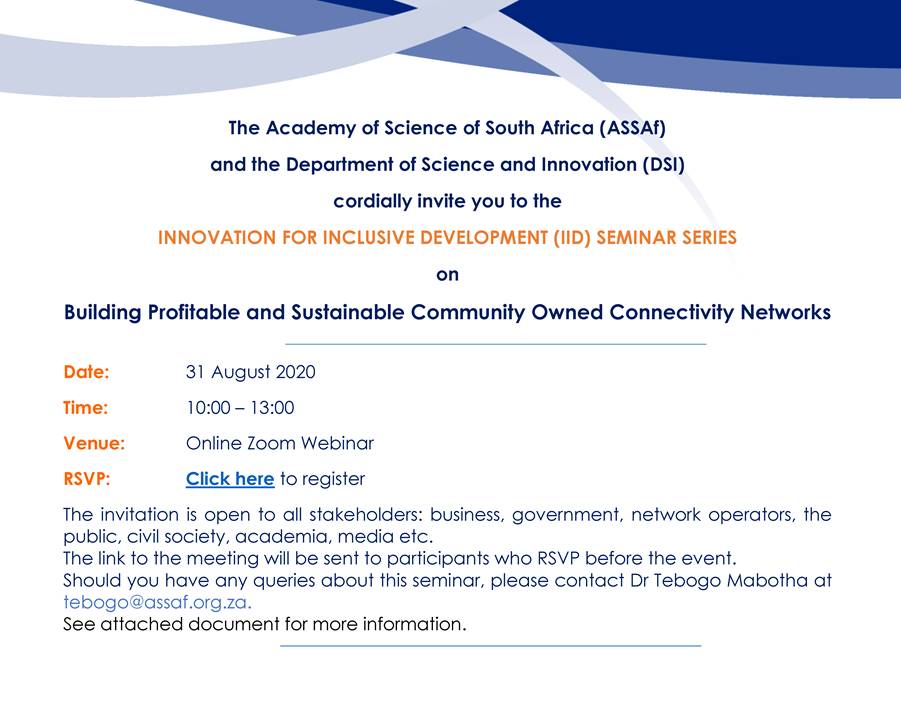 From the invitation:
Dear Colleagues,
The Academy of Science of South Africa, ASSAf, hereby invites you to a seminar on " Building Profitable and Sustainable Community Owned Connectivity Networks ", which will be held on 31 August 2020 on Zoom Webinar from 10:00 to 13:00 South African Time.
Here it he RSVP link: Building Profitable and Sustainable Community Owned Connectivity Networks
Este sabado William Suarez de ColNodo estara compartiendo hacerca del LibreRouter y Libremesh:
Conversatorio: Redes comunitarias en el entorno rural.
viernes 11/09, 10hs (hr de ARG)
Compartimos muy felices el lanzamiento de una nueva edición del "#ProgramadeFormación de Promotoras y Promotores Técnicos en Comunidades Indígenas en #Telecomunicaciones y #radiodifusión", que coordinamos junto con la Unión Internacional de Telecomunicaciones (UIT).
¡Les invitamos a sumarse a esta experiencia de intercambio de saberes para la creación y consolidación de procesos que permitan seguir tejiendo los caminos hacia la #AutonomíaTecnológica en las comunidades del #AbyaYala!
La convocatoria se encuentra abierta para todos los países de #AméricaLatina, el programa no tiene costo y pueden enviar sus solicitudes hasta el 4 de octubre.
La convocatoria completa se puede consultar en: https://bit.ly/33K3UE5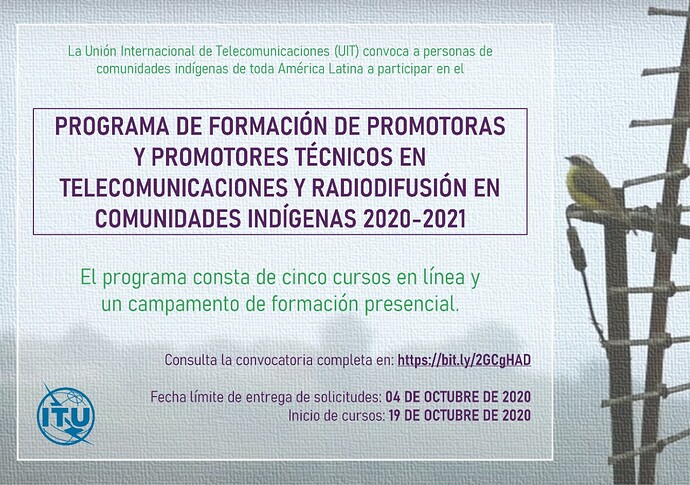 Summit on Community Networks in Africa: Five sessions, five months.

Te invitamos el próximo martes 29 al tercer programa de:
Voces y Miradas: Redes comunitarias: experiencias en América Latina.
Donde participará Carlos Baca, Coordinador del Centro de Investigación en Tecnologías y Saberes Comunitarios (CITSAC), México junto con Lucía Camacho, abogada de la Fundación Karisma, Colombia.

Martes 29 de septiembre, 2020

4:00 p.m.

Canal YouTube Proledi UCR / Facebook Proledi UCR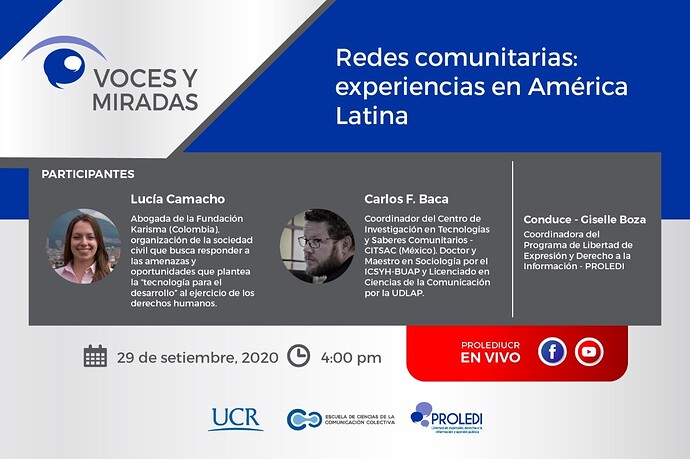 El Centro Nacional de las Artes (CENART) de México, el Centro de Investigación en Tecnologías y Saberes Comunitarios (CITSAC) en colaboración con otras organizaciones, organizan el encuentro "Alteridades tecnológicas. Otros mundos". Se realizará de manera virtual del 14 al 16 de octubre.
Durante tres días sostendremos conversaciones con invitados de distintas regiones, quienes hablarán de sus prácticas comunitarias, mediante internet u otros dispositivos tecnológicos; pondremos sobre la mesa el problema de la alteridad y su relación con una noción de tecnología no capitalista. Pensaremos si otro u otros internets son posibles, otras materializaciones o digitalizaciones de lo comunitario que no pasen por el tamiz eurocéntrico y colonial. Pondremos en cuestión el asistencialismo tecnológico, el capacitismo, la alfabetización tecnológica y la imposición de habilidades técnicas.
Queremos escuchar y hablar sobre lo tecnológico a partir de la invención de las formas de estar juntos y sostener la vida, pensar así, desde este lugar, la abstracción de lo tecnológico, de los objetos técnicos: todo ello hacia la construcción de autonomías tecnológicas. Queremos preguntarnos si los actuales discursos sobre lo tecnológico enmudecen otras tecnologías no capitalistas; intentar deshacernos de lugares comunes que replican las nociones tecnológicas colonialistas para asumir una inevitabilidad tecnológica que oscurece responsabilidades. No pensar a las comunidades como receptoras pasivas de las tecnologías, sino como agentes de lo tecnológico, inventoras de sus propias formas de lo tecnológico, no sólo destinadas a la apropiación y aplicación eficiente. Dejar de forzar los conceptos y discursos emancipatorios dominantes a todas las singularidades comunitarias.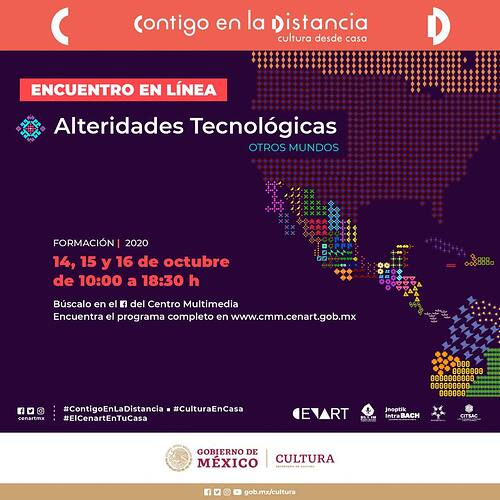 There is recording of the session Steve Song moderated for the IIC on Regulation in times of pandemic and lessons for the future: African responses – Southern Africa: