Growing Our Networks in Uncertain Times↔Places
August 7–9, 2020

The Dynamic Spectrum Alliance is organizing an event on "TVWS Workshop: Latest Developments On Regulatory Frameworks Worldwide, Ecosystem, commercial deployment status and social impact" All information here
Wednesday July 1, 8am ET/1pm BST/2pm CEST
ISOC Webinar
How Community Networks are helping during COVID-19
8 July at 7:00 AM UTC
A few interesting events more on broader connectivity areas of work:
UN Sustainability Goals HLP side event
Pathways Towards Universal Access to Resilient Connectivity in the LDCs and Landlocked Countries
09 July
4PM UTC

A4AI panel - WSIS forum
Promoting Rural Broadband Access Through Partnerships and Policy Reform
15 July

African Union Commission
The African Internet Resilience webinar series: 4 Measuring Africa's Internet resilience
21 July
11am UTC
Registration link: https://isoc.zoom.us/webinar/register/WN_xwtrHhCDQEqsC8VVd9k1TQ
Some potentially relevant sessions at RightsCon, which appears to be free.
Wednesday, July 29 at 9:15 AM Pacific (4:15 PM UTC) for the
July DWeb Meetup: 2020 Community Views Around the Globe
ISOC y CITEL tienen el gusto de anunciarles la convocatoria para participar en el curso/beca "Construyendo redes comunitarias inalámbricas ", que se realizará en línea del 14 de septiembre al 25 de octubre de 2020.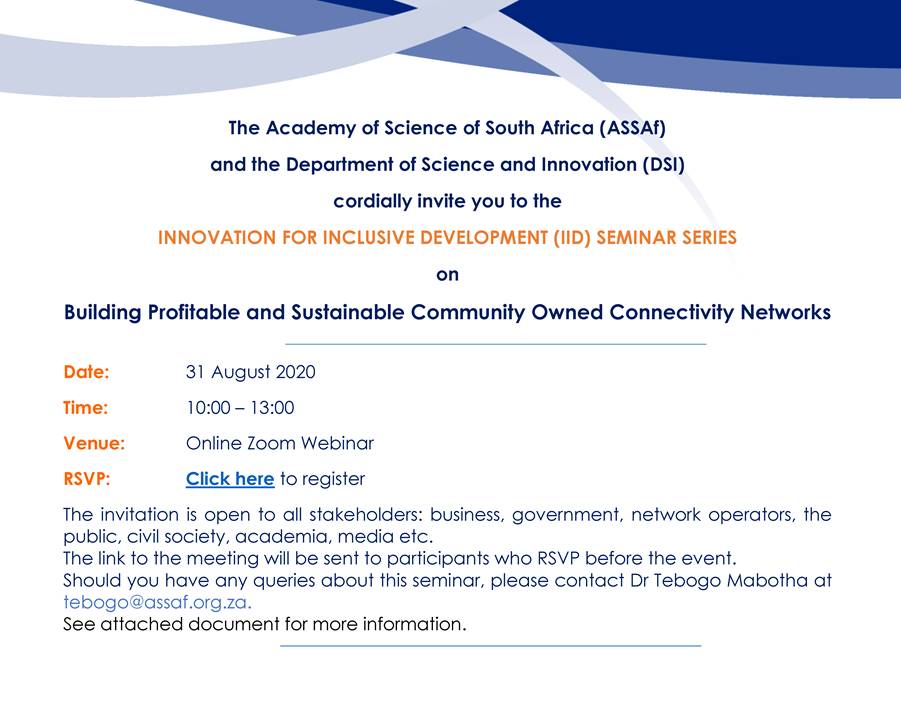 From the invitation:
Dear Colleagues,
The Academy of Science of South Africa, ASSAf, hereby invites you to a seminar on " Building Profitable and Sustainable Community Owned Connectivity Networks ", which will be held on 31 August 2020 on Zoom Webinar from 10:00 to 13:00 South African Time.
Here it he RSVP link: https://docs.google.com/forms/d/e/1FAIpQLSdy8THnJs6OJBVtijIFdlXdsXderD7DIdofMvrbz6D3vRKXMA/viewform
Este sabado William Suarez de ColNodo estara compartiendo hacerca del LibreRouter y Libremesh: