Nic Bidwell's presentation on Altermundi in "Wireless in the Weather-world and Community Networks Made to Last"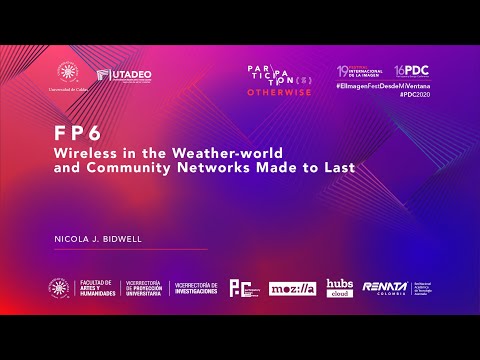 The launch of the Roadmap for the High Level Panel on Digital Cooperation, which recognizes that "Some policies have been shown to promote connectivity, including regulations aimed at creating an enabling environment for smaller-scale providers, including broadband cooperatives, municipal networks and local businesses, by putting in place practices such as facilitating licence exemption and tax incentive schemes" and it sets itself to "d) Promote the development of enabling regulatory environments for smaller-scale Internet providers, along with local and regional assessments of connectivity needs;".
The report is here.

The report "Progress made in the implementation of and follow-up to the outcomes of the World Summit on the Information Society at the regional and international levels - Report of the Secretary-General" released this month at the UN Commission for Science and Technology for Development, recognizes the contributions made by global civil society organization on making recommendations for innovations in spectrum management to support community networks.

Community networks responses to the Reg4COVID ITU call
Many community networks have responded to this call, here are some of their responses.
On June 25th the ITU launched the Smart Villages Blueprint
The Webcast and presentations on the launch are now available similarities between #smartvillages and #communitynetworks are very strong so this is a big opportunity to create policy and regulatory frameworks to enable them both
On June 26th the Africa Union Commission, the African Telecommunications Union, the Internet Society, Mozilla, Nethope and the Association for Progressive Communications organized a webinar on "Shared Spectrum Strategies to Increase Affordable Access in Rural Areas"
The recording is now available here
The message from the speakers was loud and clear: #TVWS is a great, but #IMT needs to be shared too
Community Networks Research Article:
This is a economic case study of collaborative networking. "How costs are distributed among the participants is a key question in the management and viability of shared resources." The external traffic networking costs are assessed in a model (i.e. IXP and carrier costs, management costs, electricity costs, etc). The cost-sharing approach is analysed (i.e. equally dividing a part of the total cost among the participants, while proportionally dividing the other part according to each participant's bandwidth usage).
Cerdà-Alabern, L., et al. (2020). "On the Guifi.net community network economics." Computer Networks 168 : 107067.
Community Networks Research Article:
The exploration of link quality for wireless community networks (WCN). A case study of a WCN in FunkFeuer in Vienna. The approach in the paper could be useful in the prediction of link quality and improve performance of the WCN.
Abdel-Nasser, M., et al. (2020). "Link quality prediction in wireless community networks using deep recurrent neural networks." Alexandria Engineering Journal.
On 17 June 2020, APC collaborated with the ICT4D (Information and Communication Technology for Development) Research Centre at Bahir Dar University, the Council for Scientific and Industrial Research, the Internet Society Ethiopia Chapter, the Internet Society and the Network for Digital Rights in Ethiopia to submit a contribution to the draft Telecommunications Licensing Directive No. 1/2020. In the contribution, we recommend that the Ethiopian Communications Authority (ECA) consider international recommendations including creating a licensing framework for telecommunications operators that considers community networks as well as developing an innovative, transparent and accessible spectrum licensing scheme that enables community networks. Read the full submission here
An ever growing repository of Dr. G. van Stam (@gertjanvanstam) research outputs is available here. Dr G. van Stam was a critical actor in the development of the community networks in Africa with its contribution to the creation of Murambinda and Macha Works, in Zimbabwe and Zambia, respectively, more than 10 years ago.
Terms and Conditions podcast by Berhane Taye and Neema Iyer.
Two guest speakers, Josephine Miliza and Chenai Chair speak about Community Networks and Universal Service and Access Funds in Africa as well as feminist thought on connectivity issues.
Great quote by Josephine on CNs in Africa:
"Community networks… is not a foreign concept in Africa. In terms of telecommunications, it might be seen as something new. But in how we live our lives, existing in communities and coming together to solve challenges that affect us, [it] has always been there."
Radio Podcast:
SAfm Sunrise: 08 JULY 2020: Mediated Conversations. The digital divide and access to information in rural versus urban areas: how do we bridge the gap?
Go to 21:00
University of the Western Cape - Bill Tucker - speaks to his involvement with community-based and community owned network, Zenzeleni (isiXhosa means 'do-it-yourself').
I just saw this South Africa National Planning Commission paper out for public comment (until 27 July) on the country's readiness for 4IR.
"Digital Futures: South Africa's Digital Readiness for the Fourth Industrial Revolution"
It was NPC-commissioned work done by Research ICT Africa and the University of Cape Town.
Reference to Community Networks (Page 20, interview with Carlos! Jan 2019, page 64, page 69), and open data available to new entrants including community-based entities (page 63)
Reference to Open Data: Page 63